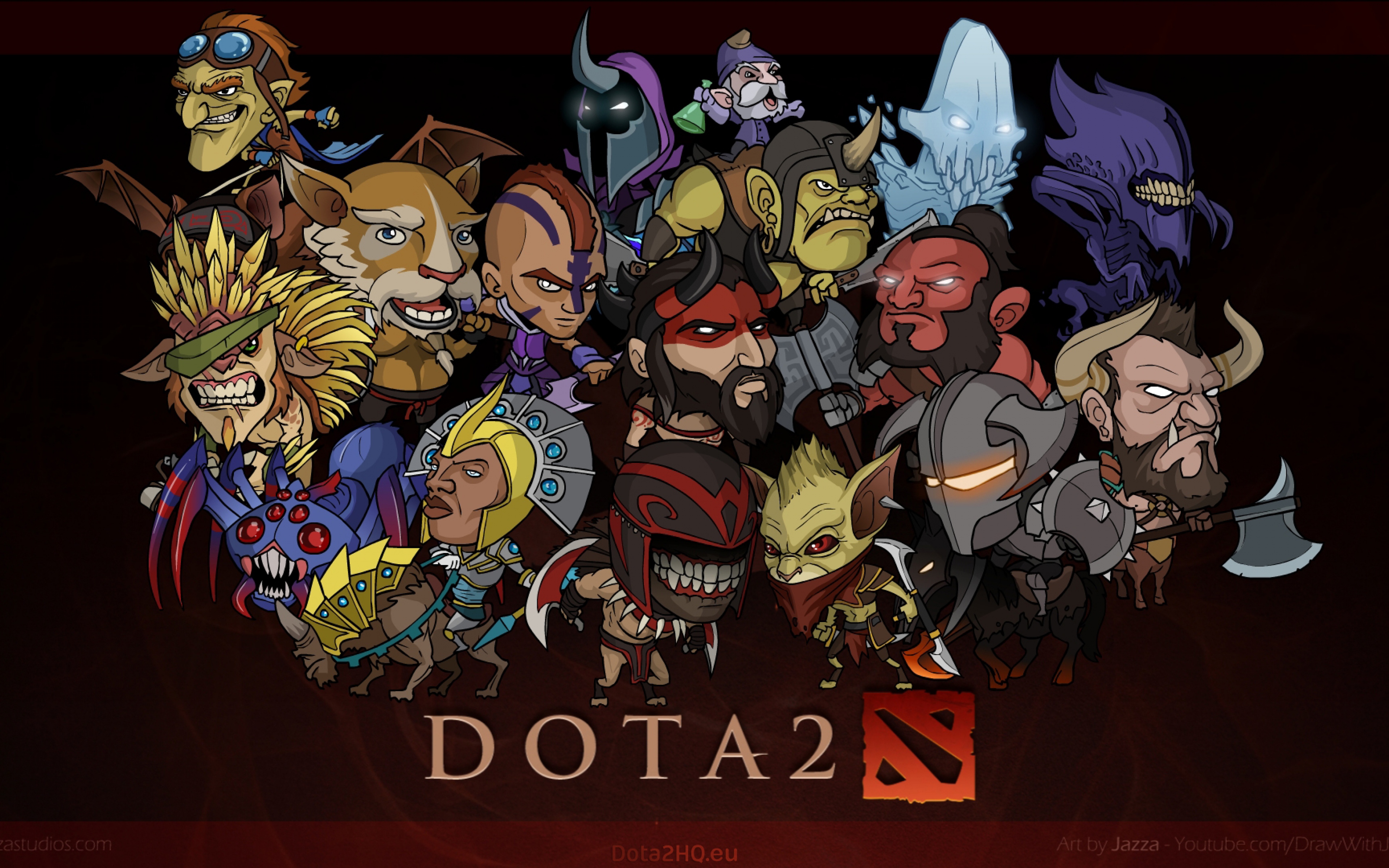 Контрпики в Dota 2
У многих игроков в Dota 2 возникают проблемы в самом начале матча - кого же пикнуть или как противодействовать героям противника? Чтобы таких вопросов не возникало, предлагаем вам пользоваться табличкой контрпиков.
Как ей пользоваться?
Вы начали игру, увидели героя во вражеской команде, свернули Доту, открыли эту страницу (лучше закрепить ее во вкладках), нашли героя противника (для быстрого поиска используйте Ctrl+F) и берете любого нужного героя из списка, который контрит героя соперника.
Имена героев для удобства расположены в алфавитном порядке.
Список контрпиков
Abaddon
Axe, Doom, Storm Spirit, Windranger
Alchemist
Ursa, Ancient Apparition, Lifestealer, Anti-Mage, Bane, Axe, Dark Seer, Beastmaster, Bounty Hunter, Death Prophet
Ancient Apparition
Anti-Mage, Night Stalker, Viper, Dazzle, Chen, Pudge, Luna, Puck, Keeper of the Light
Anti-Mage
Riki, Outworld Destroyer, Shadow Demon, Faceless Void, Doom Bringer, Blood Seeker, Bane, Night Stalker, Alchemist, Phantom Assassin
Axe
Ursa, Lifestealer, Necrolyte, Alchemist, Gyrocopter, Viper, Sniper, Juggernaut, Anti-Mage, Nature's Prophet
Bane
Silencer, Mirana, Anti-Mage, Chaos knight, Templar Assassin, Alchemist, Phantom Lancer, Invoker, Ancient Apparition, Leshrac
Batrider
Silencer, Alchemist, Meepo, Queen Of Pain, Necrolyte, Blood Seeker, Visage, Wisp, Invoker, Zeus
Beastmaster
Enchantress, Alchemist, Sand King, Outworld Destroyer, Chen, Drow Ranger, Sniper, Weaver, Lone Druid, Pudge
Bristleback
Shadow Demon, Slardar, Doom Bringer
Elder Titan
Vengeful Spirit, Lich, Chen, Brewmaster, Enigma.
Blood Seeker
Leshrac, Huskar, Clockwerk, Batrider, Razor, Brewmaster, Lone Druid, Alchemist, Bane, Drow Ranger
Bounty Hunter
Slardar, Zeus, Tiny, Doom Bringer, Alchemist, Lion, Spirit Breaker, Axe, Batrider, Rubick
Brewmaster
Doom Bringer, Riki, Drow Ranger, Invoker, Rubick, Death Prophet, Lifestealer, Silencer, Timbersaw, Alchemist
Broodmother
Sand King, Earthshaker, Axe, Shadow Fiend, Dark Seer, Keeper of the Light, Alchemist, Tidehunter, Bounty Hunter, Sniper
Centaur Warrunner
Lifestealer, Zeus, Necrolyte, Alchemist, Bane, Ancient Apparition, Beastmaster, Anti-Mage, Brewmaster, Viper
Chaos knight
Phantom Lancer, Sven, Razor, Kunkka, Anti-Mage, Invoker, Earthshaker, Tiny, Outworld Destroyer, Beastmaster
Chen
Enchantress, Clinkz, Beastmaster, Batrider, Doom Bringer, Jakiro, Lifestealer, Ancient Apparition, Lich, Bounty Hunter
Clinkz
Slardar, Bounty Hunter, Blood Seeker, Spirit Breaker, Sniper, Alchemist, Huskar, Riki, Leshrac, Faceless Void
Clockwerk
Phantom Lancer, Huskar, Phantom Assassin, Dark Seer, Anti-Mage, Silencer, Bane, Axe, Slark, Meepo
Crystal Maiden
Juggernaut, Lina, Witch Doctor, Ursa, Clinkz, Phantom Assassin, Chaos knight, Lifestealer, Venomancer, Clockwerk
Dark Seer
Doom Bringer, Anti-Mage, Silencer, Keeper of the Light, Riki, Outworld Destroyer, Drow Ranger, Alchemist, Phantom Lancer, Blood Seeker
Dazzle
Axe, Ursa, Alchemist, Templar Assassin, Venomancer, Anti-Mage, Clinkz, Phantom Assassin, Ogre Magi, Outworld Destroyer
Death Prophet
Phantom Lancer, Sniper, Omniknight, Lion, Anti-Mage, Riki, Pudge, Chaos knight, Alchemist, Weaver
Disruptor
Silencer, Windrunner, Alchemist, Batrider, Anti-Mage, Dazzle, Chen, Shadow Fiend, Brewmaster, Phantom Assassin
Doom
Slardar, Lifestealer, Dazzle, Templar Assassin, Phantom Lancer, Necrolyte, Bounty Hunter, Leshrac, Ancient Apparition, Crystal Maiden
Dragon Knight
Outworld Destroyer, Chaos knight, Lifestealer, Dark Seer, Necrolyte, Enchantress, Brewmaster, Ancient Apparition, Sniper, Anti-Mage
Drow Ranger
Lycanthrope, Pudge, Phantom Assassin, Viper, Blood Seeker, Shadow Demon, Sniper, Centaur Warrunner, Bounty Hunter, Dragon Knight
Earthshaker
Clockwerk, Silencer, Rubick, Lina, Lifestealer, Windranger, Invoker, Anti-Mage, Lion, Nature's Prophet
Enchantress
Clinkz, Chen, Jakiro, Death Prophet, Puck, Lina, Queen Of Pain, Blood Seeker, Nyx Assassin, Lycanthrope
Enigma
Vengeful Spirit, Rubick, Brewmaster, Beastmaster, Clockwerk, Silencer, Zeus, Alchemist, Visage, Ancient Apparition
Faceless Void
Tiny, Axe, Spectre, Rubick, Pudge, Outworld Destroyer, Centaur Warrunner, Anti-Mage, Mirana, Beastmaster, Silencer
Gyrocopter
Alchemist, Night Stalker, Shadow Demon, Riki, Blood Seeker, Necrolyte, Lycanthrope, Bounty Hunter, Batrider, Broodmother
Huskar
Necrolyte, Viper, Axe, Ancient Apparition, Phantom Lancer, Ursa, Brewmaster, Bane, Invoker, Omniknight
Invoker
Doom, Silencer, Nyx Assassin, Templar Assassin, Bounty Hunter, Queen Of Pain, Sven, Anti-Mage, Disruptor, Death Prophet
IO
Disruptor, Witch Doctor, Lina, Batrider, Nyx Assassin, Vengeful Spirit, Clinkz, Sniper, Windrunner, Chaos knight
Jakiro
Juggernaut, Zeus, Slardar, Lifestealer, Anti-Mage, Clockwerk, Blood Seeker, Silencer, Drow Ranger, Lone Druid
Juggernaut
Shadow Demon, Phantom Lancer, Omniknight, Windrunner, Templar Assassin, Razor, Disruptor, Pugna, Mirana, Riki
Keeper of the Light
Nyx Assassin, Bounty Hunter, Storm Spirit, Treant Protector, Anti-Mage, Bane, Alchemist, Drow Ranger, Axe, Ursa
Kunkka
Doom, Drow Ranger, Shadow Demon, Lifestealer, Lion, Omniknight, Silencer, Alchemist, Blood Seeker, Riki
Leshrac
Anti-Mage, Doom, Night Stalker, Bane, Clockwerk, Silencer, Lion, Blood Seeker, Clinkz, Ancient Apparition
Lich
Chen, Juggernaut, Anti-Mage, Phantom Lancer, Sniper, Nyx Assassin, Dark Seer, Axe, Lycanthrope, Lina
Lifestealer
Ursa, Faceless Void, Ancient Apparition, Slardar, Bane, Huskar, Axe, Shadow Demon, Alchemist, Razor
Lina
Juggernaut, Pugna, Anti-Mage, Omniknight, Invoker, Night Stalker, Nyx Assassin, Doom Bringer, Broodmother, Templar Assassin
Lion
Juggernaut, Omniknight, Doom Bringer, Lifestealer, Bane, Pugna, Nyx Assassin, Axe, Blood Seeker, Night Stalker
Lone Druid
Lifestealer, Lich, Witch Doctor, Brewmaster, Razor, Earthshaker, Vengeful Spirit, Broodmother, Outworld Destroyer, Bane
Luna
Templar Assassin, Alchemist, Night Stalker, Tiny, Lina, Pudge, Nyx Assassin, Anti-Mage, Ancient Apparition, Kunkka
Lycanthrope
Naga Siren, Night Stalker, Beastmaster, Razor, Bane, Blood Seeker, Viper, Enchantress, Drow Ranger, Templar Assassin
Magnus
Anti-Mage, Lifestealer, Clinkz, Axe, Ancient Apparition, Storm Spirit, Phantom Lancer, Blood Seeker, Ursa, Templar Assassin
Medusa
Anti-Mage, Viper, Huskar
Meepo
Earthshaker, Axe, Lina, Witch Doctor, Magnus, Pudge, Shadow Fiend, Lich, Lion, Jakiro
Mirana
Doom, Blood Seeker, Anti-Mage, Pudge, Slardar, Drow Ranger, Queen Of Pain, Chaos knight, Faceless Void, Rubick
Morphling
Riki, Anti-Mage, Ancient Apparition, Lion, Doom Bringer, Night Stalker, Enchantress, Dark Seer, Spectre, Necrolyte
Naga Siren
Earthshaker, Juggernaut, Kunkka, Sven, Enigma, Shadow Fiend, Queen Of Pain, Sand King, Leshrac, Undying
Nature's Prophet
Storm Spirit, Spirit Breaker, Timbersaw, Alchemist, Batrider, Wisp, Riki, Morphling, Bounty Hunter, Night Stalker
Necrophos
Ursa, Viper, Pudge, Nyx Assassin, Ancient Apparition, Juggernaut, Sniper, Riki, Anti-Mage, Templar Assassin
Night Stalker
Huskar, Axe, Blood Seeker, Earthshaker, Beastmaster, Razor, Lifestealer, Templar Assassin, Ursa, Faceless Void
Nyx Assassin
Slardar, Lone Druid, Axe, Blood Seeker, Lifestealer, Bounty Hunter, Anti-Mage, Clockwerk, Huskar, Sniper
Ogre Magi
Phantom Lancer, Lifestealer, Anti-Mage, Doom Bringer, Omniknight, Necrolyte, Silencer, Nature's Prophet, Clinkz, Phantom Assassin
Omniknight
Invoker, Silencer, Shadow Demon, Drow Ranger, Doom Bringer, Outworld Destroyer, Naga Siren, Ancient Apparition, Necrophos, Batrider
Outworld Destroyer
Nyx Assassin, Silencer, Death Prophet, Doom Bringer, Pugna, Night Stalker, Drow Ranger, Lion, Lina, Riki
Oracle
Silencer, Scywrath Mage, Doom, Clockwerk, Invoker, Pugna, Ancient Aparation, Nyx, Lifestealer
Phantom Assassin
Doom, Chaos knight, Shadow Demon, Brewmaster, Razor, Tiny, Huskar, Alchemist, Axe, Luna
Phantom Lancer
Earthshaker, Sven, Axe, Kunkka, Slardar, Bounty Hunter, Magnus, Jakiro, Dragon Knight, Shadow Demon
Puck
Silencer, Night Stalker, Anti-Mage, Doom Bringer, Storm Spirit, Centaur Warrunner, Blood Seeker, Bounty Hunter, Disruptor, Drow Ranger
Pudge
Doom, Lifestealer, Juggernaut, Omniknight, Queen Of Pain, Silencer, Outworld Destroyer, Anti-Mage, Undying, Weaver
Pugna
Anti-Mage, Pudge, Nyx Assassin, Centaur Warrunner, Zeus, Drow Ranger, Queen Of Pain, Phantom Assassin, Dazzle, Lion
Queen Of Pain
Doom, Tinker, Silencer, Lion, Anti-Mage, Disruptor, Phantom Assassin, Riki, Meepo, Beastmaster
Razor
Windrunner, Anti-Mage, Lina, Lifestealer, Storm Spirit, Sniper, Luna, Lion, Alchemist, Necrolyte
Riki
Slardar, Bounty Hunter, Zeus, Axe, Faceless Void, Drow Ranger, Doom Bringer, Silencer, Alchemist, Lone Druid
Rubick
Anti-Mage, Drow Ranger, Riki, Axe, Doom Bringer, Huskar, Night Stalker, Silencer, Sniper, Chaos knight
Sand King
Silencer, Drow Ranger, Death Prophet, Riki, Earthshaker, Pudge, Puck, Zeus, Rubick, Queen Of Pain
Shadow Demon
Death Prophet, Bounty Hunter, Dark Seer, Silencer, Outworld Destroyer, Riki, Blood Seeker, Alchemist, Lycanthrope, Puck
Shadow Fiend
Pudge, Templar Assassin, Tinker, Queen Of Pain, Huskar, Sniper, Ursa, Invoker, Axe, Slardar
Shadow Shaman
Riki, Lion, Faceless Void, Pudge, Pugna, Clockwerk, Silencer, Tiny, Sniper, Phantom Assassin
Silencer
Phantom Assassin, Sniper, Phantom Lancer, Skeleton King, Razor, Anti-Mage, Nyx Assassin, Enigma, Tinker, Shadow Demon
Skywrath Mage
Anti-Mage, Nyx Assassin, Pugna
Slardar
Viper, Treant Protector, Lich, Shadow Shaman, Blood Seeker, Shadow Fiend, Ursa, Drow Ranger, Lifestealer, Phantom Lancer
Slark
Blood Seeker, Slardar, Troll Warlord, Bounty Hunter, Tiny, Bane, Lina, Lion, Medusa, Sniper
Sniper
Pudge, Drow Ranger, Puck, Lina, Bounty Hunter, Ogre Magi, Juggernaut, Spectre, Vengeful Spirit, Anti-Mage
Spectre
Lifestealer, Lion, Broodmother, Axe, Anti-Mage, Windrunner, Ancient Apparition, Sniper, Lone Druid, Morphling
Spirit Breaker
Viper, Faceless Void, Blood Seeker, Lifestealer, Invoker, Enchantress, Chaos knight, Disruptor, Phantom Lancer, Templar Assassin
Storm Spirit
Anti-Mage, Blood Seeker, Silencer, Doom Bringer, Night Stalker, Keeper of the Light, Drow Ranger, Puck, Venomancer, Riki
Sven
Faceless Void, Lifestealer, Storm Spirit, Anti-Mage, Lion, Razor, Drow Ranger, Clinkz, Brewmaster, Gyrocopter
Techies
Natures Prophet, Lone Druid, Chen, Enchantress, другие герои с суммонами + просветка, сентри и гем
Templar Assassin
Leshrac, Alchemist, Batrider, Viper, Pudge, Dark Seer, Venomancer, Anti-Mage, Axe, Queen Of Pain
Terrorblade
Doom, Abbadon, Silencer, Skywrath Mage, Lina, Necrophos, Nyx
Tidehunter
Spirit Breaker, Rubick, Blood Seeker, Invoker, Dazzle, Batrider, Anti-Mage, Zeus, Lifestealer, Lina
Timbersaw
Silencer, Anti-Mage, Blood Seeker, Dazzle, Drow Ranger, Death Prophet, Disruptor, Razor, Tinker, Lifestealer
Tinker
Anti-Mage, Doom Bringer, Templar Assassin, Morphling, Spirit Breaker, Nyx Assassin, Puck, Pudge, Alchemist, Wisp
Tiny
Silencer, Alchemist, Lifestealer, Slardar, Doom Bringer, Night Stalker, Razor, Lone Druid, Pudge, Faceless Void
Treant Protector
Batrider, Bounty Hunter, Timbersaw, Slardar, Broodmother, Storm Spirit, Blood Seeker, Chen, Silencer, Lifestealer
Troll Warlord
Crystal Maiden, Bane, Tiny, Faceless Void, Alchemist, Axe, Dark Seer, Ancient Apparition, Nyx Assassin, Phantom Lancer
Tusk
Slardar, Doom Bringer, Riki
Undying
Alchemist, Axe, Earthshaker, Anti-Mage, Chaos knight, Drow Ranger, Death Prophet, Clockwerk, Kunkka, Gyrocopter
Ursa
Viper, Drow Ranger, Shadow Shaman, Windrunner, Crystal Maiden, Bane, Templar Assassin, Storm Spirit, Rubick, Chaos knight
Vengeful Spirit
Alchemist, Lina, Spectre, Dragon Knight, Tinker, Phantom Lancer, Anti-Mage, Batrider, Doom Bringer, Broodmother
Venomancer
Lycanthrope, Meepo, Alchemist, Tidehunter, Juggernaut, Omniknight, Crystal Maiden, Dazzle, Clockwerk, Drow Ranger
Viper
Lycanthrope, Lifestealer, Alchemist, Night Stalker, Silencer, Shadow Shaman, Outworld Destroyer, Phantom Lancer, Shadow Demon, Queen Of Pain
Visage
Tinker, Kunkka, Juggernaut, Witch Doctor, Ursa, Sniper, Viper, Lifestealer, Zeus, Luna
Warlock
Anti-Mage, Axe, Blood Seeker, Night Stalker, Dazzle, Silencer, Ursa, Outworld Destroyer, Bane, Queen Of Pain
Weaver
Slardar, Doom, Blood Seeker, Naga Siren, Anti-Mage, Bounty Hunter, Lina, Death Prophet, Riki, Faceless Void
Windranger
Queen Of Pain, Shadow Demon, Blood Seeker, Alchemist, Lina, Dark Seer, Axe, Bane, Lion, Ursa
Witch Doctor
Clockwerk, Lion, Silencer, Anti-Mage, Nyx Assassin, Omniknight, Warlock, Alchemist, Bounty Hunter
Wraith King
Anti-Mage, Invoker, Lifestealer, Lion, Silencer, Huskar, Nyx Assassin, Razor, Phantom Lancer, Meepo
Zeus
Anti-Mage, Alchemist, Templar Assassin, Lycanthrope, Axe, Pugna, Ursa, Chen, Pudge, Mirana